Seattle Trip - Oct 2011
For our anniversary this year, we took a short trip to Seattle to see a few of our favourite sights, stay the night, and of course, eat some delicious food.
We stayed at our usual accommodations, Hotel Sierra. If you're ever in the Seattle area and want to stay somewhere outside of the main city, we highly recommend it. I actually don't think we've stayed in another hotel in the area since discovering it. After checking in and having a little down time, we drove over to another of our usuals,
Claim Jumper
, where we enjoyed their overly large portions and great rustic atmosphere.
Natasha did some research to find out what things there were to see in Seattle in hopes of discovering something new. We selected a list of things that fit our schedule, which included: Pike Place Market, the Seattle Central Library, Kerry Park, and a recommendation from our family: Chipotle! Here are the details of our trip to these places.
Seattle Central Library
When Natasha told me that the
Central Library
was on the list of top attractions, I was pretty skeptical. We recently blogged about the new
library in Surrey
which was very impressive but not what I would call an attraction. Let me tell you, I was mistaken.

Seattle Central Library
I really think that this library is something nobody should miss when visiting Seattle. It has something for everyone, and when you consider that it's easy to access and is totally free, you can't go wrong. First, there's some great architecture for those who like to look at unique buildings. Everywhere you look are glass and metallic designs, and exploring it for the first time has the feeling of walking through a real life maze. And for those who want to test their fear of heights, you can go up to the highest viewpoint and peer down ten floors to the main level. Seriously, go check it out.
Kerry Park
A park? Yes, I was skeptical of this one too. What could be so interesting about a park? As it turns out, it's more than just a grassy area with trees.
Kerry Park
is quite a small area high on a hill with an expansive view over the city and nearby water.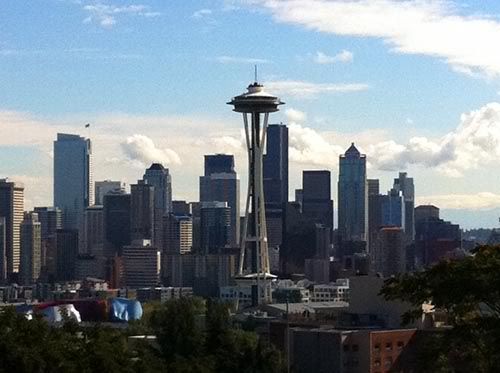 The view from Kerry Park.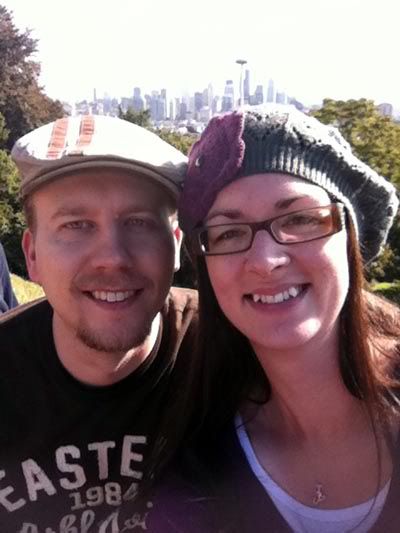 All smiles from this viewpoint!
Pike Place Market
No trip to Seattle is complete without a visit to this market. You can buy everything from art, to produce, seafood, flowers, and in the lower levels are all kinds of shops, including one where I found an interesting
LIFE Magazine for my chess collection
. If you're there, don't forget to explore the streets around the market too, which are full of unique and interesting shops.
We did find something new this time though, a street band with an early 1900's kind of sound and an interesting mix of instruments.

The Millionaire's Club
Chipotle
Last but not least,
Chipotle Mexican Grill
! Our family has been raving about this place for years, but with no restaurants in Canada, we haven't been able to try it very easily. However, we made a special trip this time and were rewarded for our efforts.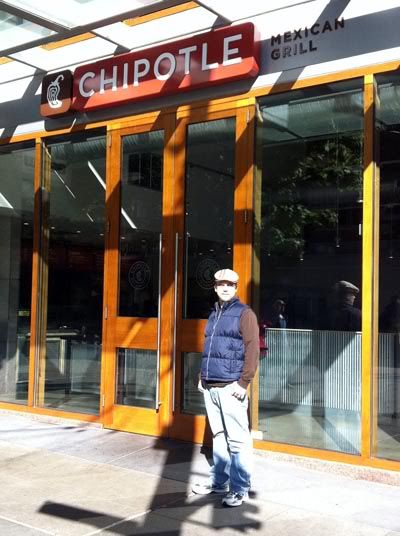 Entering Chipotle's for the first time!
Our first experience is one that will have us coming back again. The food was great, and the staff even threw in some free chips and salsa for us first time customers!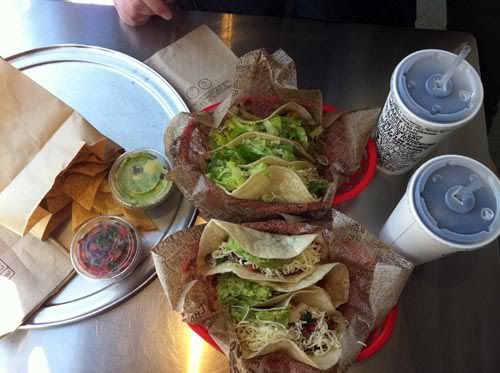 Tacos, tacos, tacos!
If you want to kick it up a notch next time you are hungry for Mexican food, don't hesitate -- go straight to the nearest Chipotles.
Overall, our trip was great. We both agree that we really got to like Seattle this trip, probably because we were able to explore more of what it has to offer, and had some really nice weather to go along with it. All we need to figure out is when we can go again!
Labels: andrew and natasha, seattle, travel