Seattle Central Library
During our
trip to Seattle
earlier this month, we visited the
Seattle Central Library
, which appeared high up on a list of things to see in the area.
As it turns out, it was a great choice and we were highly impressed.

The building exterior -- impressive in itself.
It's located in downtown Seattle, not too far from Pikes Place Market. If you want to take a virtual tour around the block, check out the
street view
!
On entering the library, you're in a huge open area with elevators and escalators to take you to other parts of the library, as well as a seating area, and a coffee and souvenir shop.

Where would you like to go?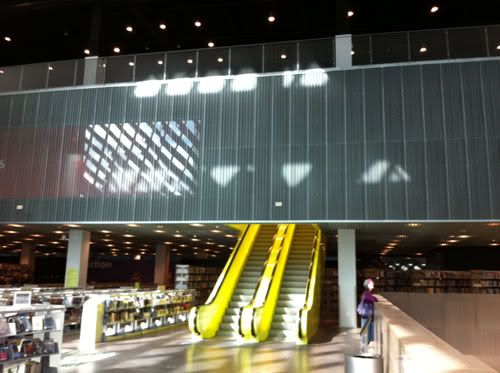 We chose the up escalator.
It seemed like the most obvious way forward, so up we went. Behind the escalators you can see the Fiction section, which despite spending an hour and a half looking around, we totally missed.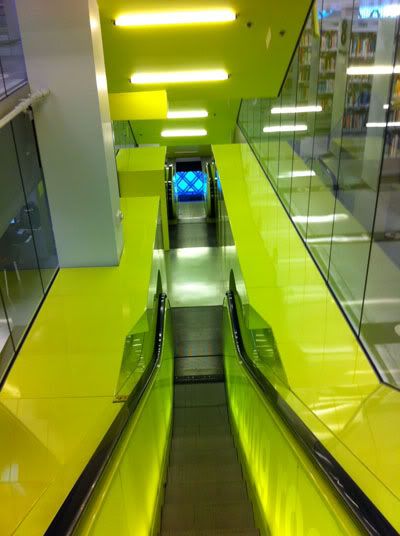 The long ride up!
Two escalators take you almost all the way to the top -- a long way! You can see on either side the floors you pass on your way up. It's something of a sloped spiral, so you can make your way down just by following the floor one level at a time. If you need to, you can jump into the escalator at certain points.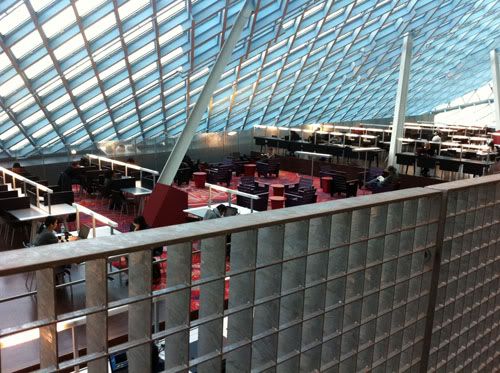 A very different feel.
The library's design isn't the warm and cozy type we've grown up with. There's a lot of glass and metal, which gives a very cool feeling. However, it doesn't seem to deter anyone, and the place had a lot of people here and there. If you do need a taste of the warm and cozy, head over to the children's section, which is as you would expect.
The next stop was the highest point in the library. Once you reach the highest point on the 10th floor, you can walk down a narrow walkway beside the elevator shaft and peek over the edge all the way to the main floor where you come in.

That's a long way down.
Note the escalators that you can see in the third photo.
And lastly, we visited the Seattle Room. The library has a number of special areas that feature specific types of information. I'm pretty sure I saw a Map Room too, but we didn't get to tour it. In the Seattle Room are all kinds of building plans, layouts, building models, books, and more -- all having to do with Seattle.

Natasha in the Seattle Room.
We took the elevator down part of the way, toured some of the book levels, then took the elevator down again to see the children's section. We'll take our kids back there for sure next time were in the area.
All in all, a really neat place to visit, and with no cost attached, the entertainment value is unbeatable. Go check it out next time you're in Seattle!
Labels: andrew and natasha, library, seattle, travel