LIFE Magazine - Bobby Fischer
In a recent trip to Seattle, we made our usual trip through
Pike Place Market
. One of my favorite stores there is Old Seattle Paperworks, which offers a large collection of collectible magazines going back to the early 1900's. Their LIFE Magazine collection appears to be one of the largest, and on this trip there was a particular issue I was after.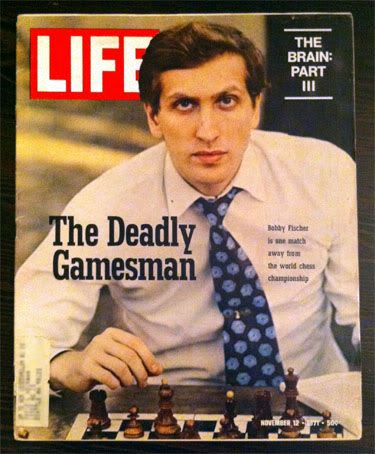 LIFE Magazine - November 12, 1971
Yes, this is one I have seen in a number of photos but never in person. It features Bobby Fischer on the front cover, just prior to him becoming the World Chess Champion.
The writer covers a period of a few days spent with Bobby, and describes him much the same as numerous writers have. The one thing that caught my attention, however, was his reported appetite. Big meals with multiple glasses of freshly squeezed orange juice, and selzer water, and a couple of banana and whip cream desserts.
It's nice to remember him during his good years, and this magazine is a great addition to my Chess collection.
Labels: books, chess, life magazine, seattle, travel