City Centre Library
We heard there was a
new library in Surrey
, so earlier this week we took the kids for an evening outing to take a look. The library is
located
near the Surrey Central skytrain station in a really modern-looking building. The inside of the library is very large, with a number of meeting rooms, study areas, and even a coffee shop.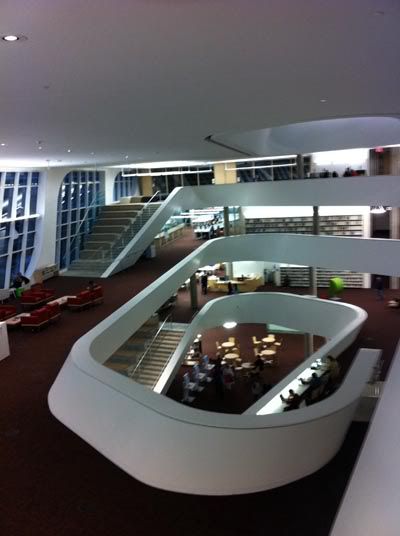 A view from the top floor.
As you can see, the library has a very modern theme. It's very clean looking, a lot of white -- one might even say it's a bit cold.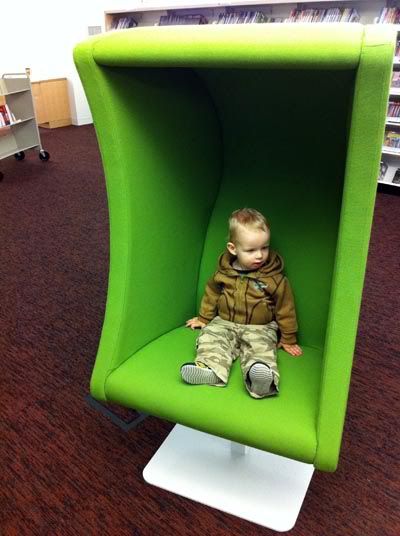 William trying out a cozy chair.
Scattered throughout the library are various chairs and benches, many of them quite unique. The fact that the library has 77,000 sq ft of space means there should be ample room to relax, browse, and read.

Charlotte and William in the kids area.
The kids section has some nice reading areas, a number of computers to play with, and a bit of a play area. As seen in the above photo, lining the walls are interesting displays for kids to peek into.
Overall I was pretty impressed. I really like the idea of a library having a coffee shop, which I hope brings in revenue for the library system. Instead of being a place to simply read or get books, this library feels more like a place to spend some time.
The area directly around the Surrey Central skytrain station is a bit sketchy, but hopefully with the new city hall being built nearby, and more improvements throughout the area, it should really start becoming a great place to go.
Labels: charlotte, city life, family, library, surrey, william