Charlotte's 4th Chess Lesson
So, the last few days, Charlotte has been asking repeatedly to "play a little bit Chess", so I pulled out the board yesterday and we reviewed the basics we've been practicing every few months.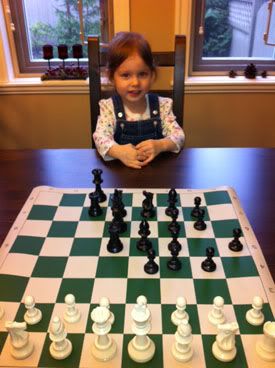 Charlotte over the board!
She's pretty good with the names of the pieces now, although the Rook and Bishop often get mixed up. Since she's been asking more about it, we might start playing a little more often. She's nearly three, and as I understand it, in Russia, that's when they begin learning the game!