Belated Birthday
It was my birthday almost a month ago, and Natasha noticed we hadn't made a blog post of it. Highly unusual, but it was an unusually busy time and it just slipped away on us.
We were very pleased to have my parents here for my birthday, and we enjoyed a pleasant day around the house, eating some tasty food, cake, and of course, opening a few gifts!

Opening the first gift: pencil crayons
I'd asked for this gift, because Charlotte likes me to color with her, and the short kid pencil crayons are difficult to use. Also, this way, I can keep track of them all without having to worry about losing colors or whatever.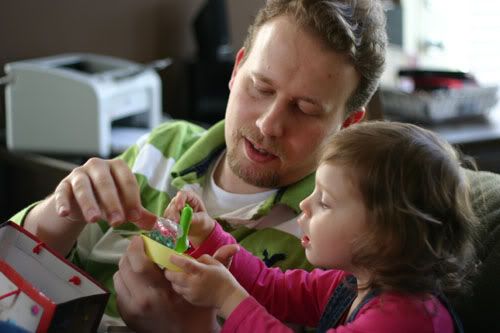 Andrew and Charlotte inspect the magnetic paperclip holder.
A cute gift from the kids, this little novelty holds paperclips magnetically (shaped like one of those Hallmark characters) and says "Take a clip, leave a nickel". I've had it on my desk at work for a month, and not a single nickel. Oh well, it's a great desk decoration anyway!
Then the big one:

Whoa! An iPad!
A very impressive gift from my parents: An iPad! I'd been asking for this, not in a serious way, and while I lightly suspected something was going on, it was still a great surprise. Natasha bought me a great looking case, and it makes for an awesome new addition to my Apple electronics collection. I've been using it almost every day, and a few recent blog posts have been written on it. The great thing about its size is that I can carry it in my backpack where my laptop requires a large case.
And not to forget anyone, Natasha's Mom took us out for lunch for our birthdays which are both at the end of the year.
Thanks to everyone for the great gifts, and especially for taking the time to come out to visit. We had planned some other activities with friends, but sick kids forced us to cancel, and we'll hopefully be able to make up for it soon.
Had a great birthday! Lots to do before my next one!
Labels: apple, iPad, special dates