Snowman
We woke up on Saturday to a nice fresh layer of snow over the grass, and a clear sunny day to enjoy it with. We got up, ate some breakfast, and put on our warm clothes for a trip outside to enjoy the snow.

Andrew and William, bundled up.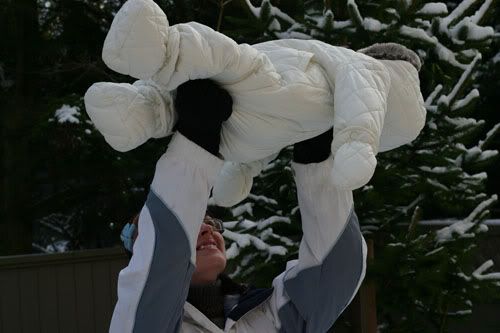 Natasha showing William the sky.
We took over 100 photos in the hour we were outside, enough to complete our Christmas cards and photos for a few other uses including the blog.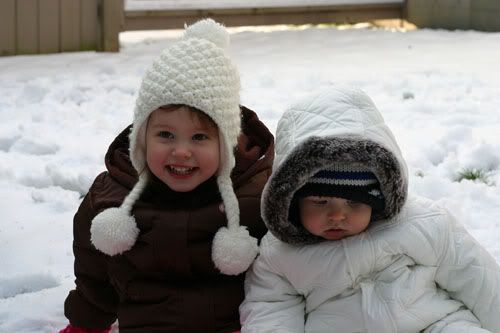 Charlotte and William
Both kids seemed to really enjoy the snow, but Charlotte especially, as she could run around in it, move it around, and even help push the big snowball for the snowman. William was happy just looking around, and playing in the snow on the ground, although he nearly went in face first a couple of times.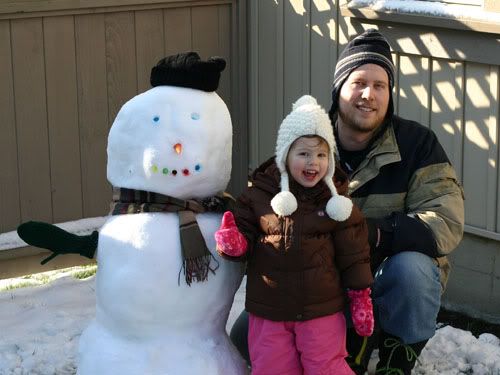 The final product!
Here we are with the snowman, and a pretty good one considering the Lower Mainland doesn't always get a lot of snow, and not always wet snow. Natasha came up with some great accessories, and Charlotte was pretty proud of the finished snowman. She keeps wanting to look out the window to see it.
Much of the snow has already melted, or turned into hard packed ice which will slowly disappear over the next few days. Not that it's going to be warm or anything. Temperatures will remain around freezing for a while, but the sun seems to have a great effect on the snow and ice lying around.
So, we've survived the first wave of winter weather. Wonder if we'll get any snow for the holidays!
Labels: andrew and natasha, charlotte, snow, william, winter