Shiny New BBQ!
Please welcome the newest addition to our patio, a big shiny BBQ!

Just in time for summer!
We picked this one up on sale and put it together before going on our family vacation. Just tonight we decided to move it out to the back yard so we can start using it full time.
Our old BBQ is now in our garage until we can decide what to do with it. Sell it, give it away, whatever works. It's an excellent BBQ which we've had for almost five years, but with a growing family and hopes of cooking for more people, something bigger was in order.
And this new BBQ is actually pretty big! Look at it compared to our old one.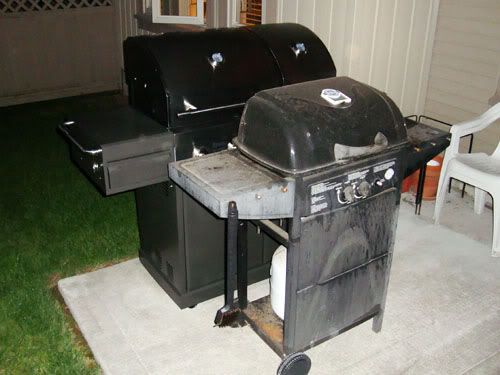 Out with the old, in with the new!
Natasha gets credit for thinking of this comparison shot... very clever.
On the menu for the remainder of the summer: steaks, hamburgers, steelhead trout, salmon, sausages, a variety of veggies, and a whole lot more!