Gone Fishing: Lafarge Lake
On Saturday morning, I went for a drive to Coquitlam to meet a couple of friends for a few hours of fishing at Lafarge Lake «
Google Map
».
The lake and surrounding park is a great place to spend time, and we often make a day trip to the area with the kids. The walk around the lake is nice, there's a playground and water park nearby, and shopping, food, and bubble tea all in the area. Country in the city at its best.
Right, back to fishing. We arrived at the lake with tips from an experienced fisherman, and an expectation of bite after bite. Read on to find out what happened.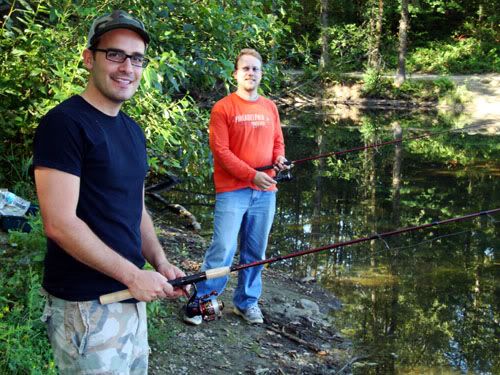 Nick and Andrew, no fish yet, but hopeful.
We tried a few spots and despite a lack of fish, had some good conversation and enjoyed the warm weather.

Bernie, apparently with the Ogopogo on the line.
Or perhaps one of the large koi you see from time to time? Unfortunately, no. Not a single bite. No bait or lure was going to trick a fish this time around. We weren't alone either. All the other people we saw fishing didn't seem to be having any luck either.
In the end, we headed out with no fish, but had an enjoyable morning of fishing anyway. This isn't a bad fishing lake overall, but it might be better if you get there in the few weeks after they stock it as I have a feeling the number of fish decreases over time and doesn't really sustain itself.
Labels: activities, friends