The Memphis Feast
Natasha came up with a brilliant plan tonight. She arranged for Charlotte and William to be watched for a couple of hours, and we went to try a restaurant new to us:
Memphis Blues BBQ
.
The reports we heard were true. The portions are great, especially when you order one of their great looking platters. When they arrive at your table, there are smiles all around, including those at nearby tables, and customers just sitting down.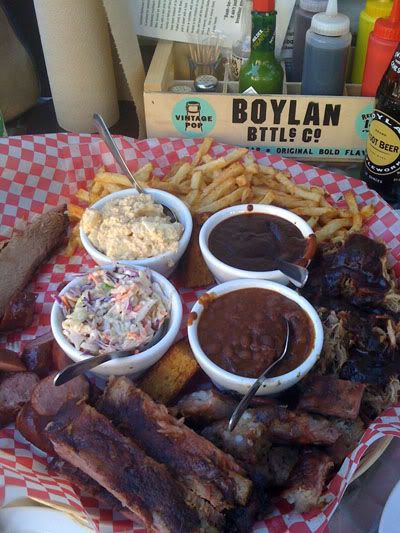 A boatload of meat, also called the Memphis Feast!
Behold, the first level in the platter scale. This meat-lovers feast comes with pulled pork, sliced brisket, ribs, smoked sausage, short ribs, chicken (they were out, so we got extra pork), cornbread, beans, coleslaw, potato salad, BBQ sauce, and a pile of well seasoned fries.
Yes, you heard right, this is the smallest. See their menu
here
. You can go up to their $136 platter which adds (besides a ton more of the regular meat) oysters, shrimp, and catfish, and feeds between 10 and 12 people. Wow.
Did we end there? Nope! We placed a second order; a slice of pecan pie for dessert.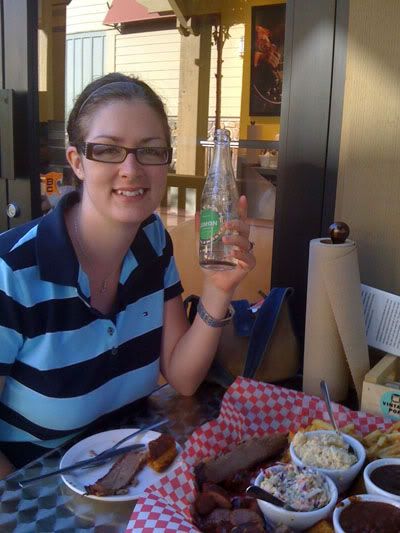 Natasha enjoying her Lemon soda with all the food.
And now the leftovers; practically a meal in itself. Note that we left behind at least half of the slaw and potato salad, and a large pile of fries.

The leftovers.
Overall, this was a big hit with us, and we hope to make another trip soon. All we need is a group of 8 to 10 people who want to go with us!
Labels: andrew and natasha, bbq, food