Seattle Trip, May 2010
On the weekend of Charlotte's birthday, we decided to take an extra day on the long weekend and make a short vacation of it. So off we went to Seattle to stay at our favorite hotel, swim in the pool twice a day, eat tasty food, and take Charlotte to the Children's Museum.
Swimming was one of the highlights of the trip for Charlotte. She got to go to the pool four times and loved every minute of it. In fact, "swimming" has become part of her daily vocabulary now, especially when it comes to the bath.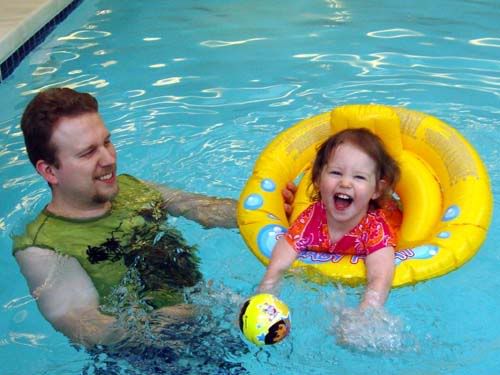 Charlotte swimming with Daddy.

Charlotte in her cozy swimming robe.

William chillaxin' beside the pool.
After seeing posts by my sister about the Children's Museums in their area, we decided to try one in our area «
street view
» (the museum is in the center of the city centre complex).
Here are a few pictures of our adventures in the Children's Museum.

Charlotte trying out some instruments.

Charlotte driving a bus.
There was a lot of pushing and shoving by kids to get to the driver's seat.

The grocery store.
No picture of Charlotte here because she didn't really get the idea of pushing a cart and loading it up. She preferred just handling all the food, and grabbing it out of other kid's carts.

Charlotte playing in the water table.
The special area for toddlers was great and had all kinds of things to climb on, move around, and interact with. Best of all, way less pushy kids.
We all had a fun weekend, which ended with our
birthday celebration
with Charlotte!