Father's Day, 2010
Sunday was Father's Day #3 for me, and we all had an enjoyable day together. Natasha made me scrambled eggs and toast for breakfast, and I opened the cards from her and the kids.
For lunch we had "Steak Dinner For Two", a package deal from a local butcher and specialty meat shop.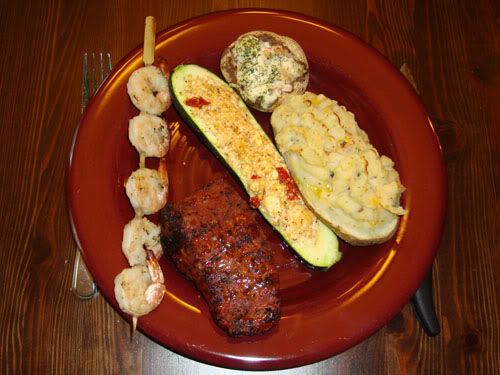 Steak dinner for one!
This package comes with two steaks, two mushroom neptune (mushrooms stuffed with imitation crab and shrimp), two prawn skewers, and two stuffed baked potatos. As an extra treat, I picked up two zucchinis stuffed with feta cheese and sundried tomatos.
Natasha bought me a couple of nice gifts as well.

Bobby Fischer: The Career and Complete Games.
This book contains every tournament game played by Bobby Fischer along with commentary and analysis. Should be an interesting read.

Mancala!
Mancala is a game we recently picked up on the iPhone, and this will let us play at home, while traveling, etc.
Hope all you Dad's had a good Father's Day!
Labels: special dates