Northern Voice, 2010: The Review
On Saturday, I attended
Northern Voice 2010
, a Personal Blogging and Social Media Conference held at the University of BC. «
street view
»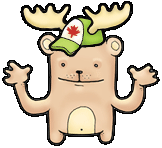 I met up with
@nickamado
, coworker and social media enthusiast, prior to the keynote, and set off to take in some new ideas, interesting stories and concepts, and plenty of geekiness.
The 45-minute keynote speech flew by, but mainly because I was taking in my surroundings and watching things with interest. Most people had laptops, many iPhones, and even a few iPads (the first time I've seen one). What were they doing with them? Tweeting madly, for the most part, for any Twitter user or follower who might care to read snippets of everything coming out of the speaker's mouth. I'm fairly certain that some people were so focused on their electronics that they didn't ever see the presenters.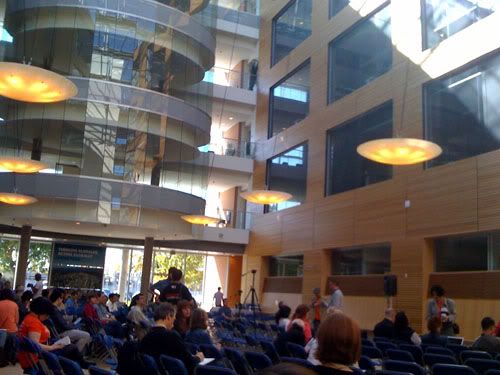 The Atrium of the Life Sciences Centre
So, off to the first session regarding whether or not blogging is dead. Obviously a popular topic, as the room was packed and we sardined into a few remaining seats, surrounded by more people with laptops and iPhones, ready to tweet even the smallest tidbit. Actually, this was probably the most interesting session, with three presenters giving opinions on blog trends, and a lot of feedback, questions, and comments from the listeners. The general consensus? Blogs are alive and well. Despite all of the micro-blogging going on these days, your standard blog is higher quality, and maintains a solid history of what you've written.
Lunch was buffet style tortillas with a variety of things to fill them with. Although simple, it's obvious that quality was taken into consideration, and I really couldn't have been happier with it. We sat on the grass outside on a nearby hill with a bunch of conference attendees. Pretty sure the tweeting continued there too.
Session two: Coping with Social Media. How to deal with the influx of email, tweets, Facebook stuff, news readers, blogs, etc. Most of the information given out here was common sense. Use lists and a good reader application for Twitter, clean up your Facebook, and use a quality news reader that lets you organize all of your feeds well. Oh, and add email filters until they're coming out of your ears. Everyone's goal for the year: getting your email inbox down to zero. I dream of that day. The venue for session two was a large auditorium with excellent seating, power plugs for laptops, and microphones all around for easy question asking. This played a big factor in staying put for session three.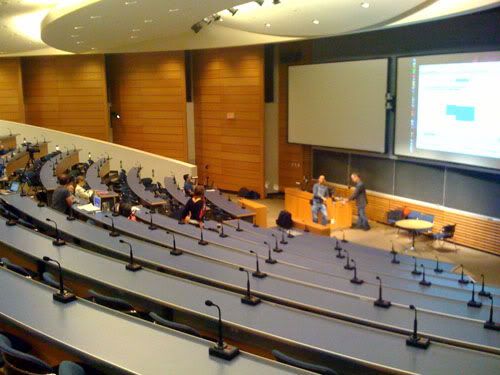 Now this is a nice auditorium!
Session three, in the same location, was the "Uses & Misuses of Social Location Sharing Sites". How far is too far when it comes to telling people where you are? The panel had many interesting things to say, but the big question that really remained unanswered in the end was:
What is the Matrix?
Why do people want to share their location? What are the benefits and where is the value in it? And further, what are the dangers? It's a whole new area of social media development, and it will be interesting to see where it leads.
After session three, I decided to head out to take care of other Saturday business like playing with my kids! Anyway, session four, "Blogging the Parenthood Experience" was one I could skip. I have growing concerns over the (lack of) quality on many "Mommy" blogs (if any of your posts have more than 30 exclamation marks, this might be you) and it's likely that session does a world of good for many family bloggers.
Conclusion
For anyone interested in learning more about social media, or wanting to get a better feel for its uses, maybe make connections with others in the same industry, this type of conference is really valuable. To get real value from the conference, one should attend both days, I think. The whole thing is very efficiently run, and I saw no sign of any problems. Each session has four options to choose from, so there's likely something for everyone, all the time. Overall, it's a fun event to spend your day at, and to really beef up your tweeting skills!
#nv10
Labels: apple, computers, iPhone, social media, social networking, twitter