Happy 2nd Birthday, Charlotte!
The day has finally arrived! Our little girl is two years old today! Guess she's not so little anymore.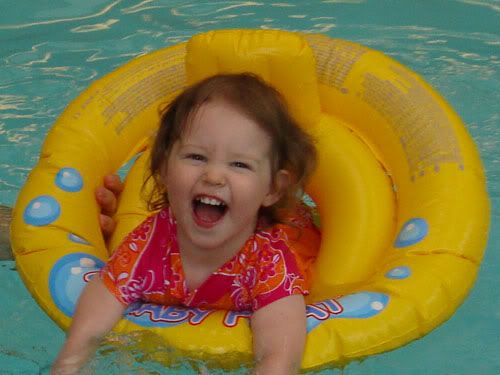 Charlotte's two!!
We just got back from a two-day trip to the Seattle area where we took Charlotte swimming four times at the hotel, to the
Seattle Children's Museum
, and a few other places around town.
This morning we opened Charlotte's gifts. You can see all her gifts except for a few, below. Also, some of our family and friends sent money and bought clothes and other gifts. Thank-you from us and Charlotte for each and every one of them.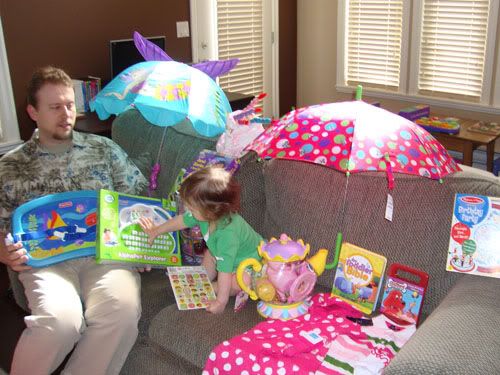 Many of Charlotte's gifts.
Charlotte also got a "Little Tikes Princess Cozy Coupe" from Auntie Stephanie, Auntie Susanna, and us!

Little Tikes Princess Cozy Coupe.
We've unpacked everything and Charlotte has been playing with all of them. The car might be a little advanced for her right now but she has lots of room to grow into it and learn how to drive it well. In any case, she loves playing with it, and the toy cell phone it comes with.
We had icecream cake for dessert. Charlotte even managed to blow a candle out on her own!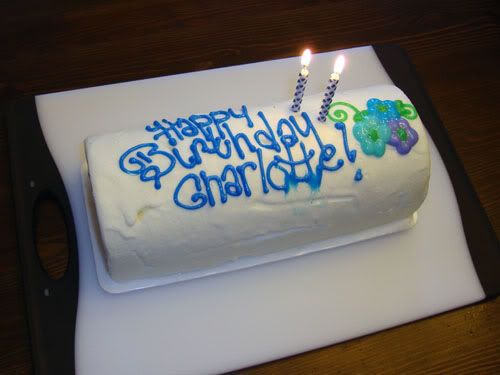 The icecream log cake!

Natasha helping Charlotte blow out the candles.
After bedtime tonight, a whole new year begins!
Labels: birthdays, charlotte, special dates