A Busy Saturday
Today was a fun but very busy day. It began with a trip to
YVR
for William's
NEXUS
interview. Despite their many questions and his inability to answer, they still approved his application.
Then, off we went to Stanley Park for an afternoon of enjoying the great weather. On the way, Natasha suggested we go to Park Royal to look for some rollerblades for me. It just so happened that we parked near
Five Guys burgers
and decided to check it out. Good move! The burgers are huge and tasty, the fries are done to perfection and literally overflowing their containers. They even have self serve peanuts if you want to munch while you wait. Of course, we took photos!

Even I had trouble biting into this burger!

Natasha with the "little" burger, as the menu calls it.
Then, off to Stanley Park to burn off the calories we just consumed.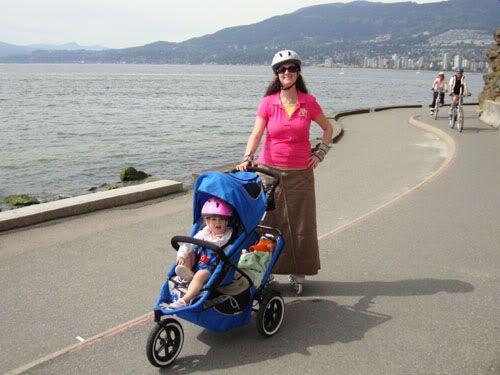 Natasha and the stroller with Charlotte and William.

Andrew sporting his new Rollerblades!
We had a good skate and went almost the entire way around. Charlotte got a chance to play at a playground, and by the time we headed home, everyone was worn out.
Another successful Saturday with the family!
Labels: activities, andrew and natasha, charlotte, food, william