iPhone Apps: MeeGenius
An app I recently purchased has become one that I use on a daily basis. As always, Natasha and I are always on the lookout for good apps for Children. MeeGenius has a collection of illustrated stories with audio and highlighted text.
At first, Charlotte had little interest. If she couldn't press a button or things weren't moving fast enough, she wanted to see something else. However, after a few weeks, she's been coming to me almost every day asking for a story.
The stories are short and sweet, most having between 10 and 14 "pages", which as you can see are mainly pictures. The audio is what I love most about this app. The words are clearly spoken, and each word is highlighted as it goes along.
Also interesting is that many of the stories are noted as being "retold", and it seems that some of them have a slightly modified ending, but it adds to the fun.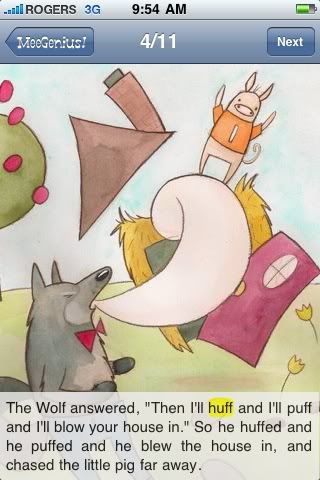 The Three Little Pigs.
This is one such story. Very well read, and at the end, the pig in the brick house befriends the wolf and teaches him how to eat many other delicious foods (besides pork, I presume). I'm not sure but I have a feeling the original story didn't end in a buffet.

The Lion and the Mouse.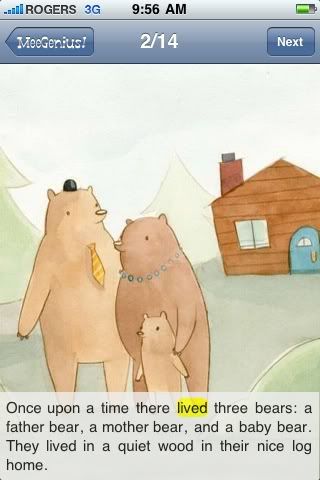 Goldilocks and the Three Bears.
The illustrations are really well done, and actually add much humour to the stories if you watch closely.
The MeeGenius app proves that quality apps exist and provide a great value for $1.99.
For more info, see their
website
and
follow them on Twitter
.
Labels: iPhone