Charlotte's Second Chess Lesson
Tonight Charlotte had her second Chess lesson. Her first was in September (
read the post here
) so we're on track for about one a year. Seems to be working.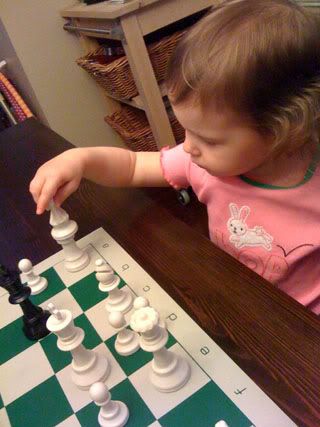 Something that hasn't changed: Charlotte's stacking strategy. On the other hand, not a single piece got chewed on.
What a move! Bg4+! Now that Charlotte is talking more, she's able to pick up words easily. She learned all the names of the pieces although "Bishop" was the toughest one. "Pawn" and "Queen" were the easiest, and I figured "Horsey" (she knew this without me telling her) was acceptable!
Looks like a Chess champ to me! This was a fun 20 minute activity which she actually played on her own for a portion of. Next lesson... sometime in the fall probably!