Mid-March Update
The past few weeks have been busy, but slow at the same time. We've put together a list of things to do before the baby arrives and have been working through it. We've also been spending time with Charlotte, taking her to the park as often as we can when the weather permits, and generally just waiting as time passes until the big day arrives.
Today we slept in (Charlotte did too!), and we took her to a new park we hadn't been to yet. Charlotte had a great time while we sat back and sipped on our homemade french press coffee. It's really great because she can climb on most of the smaller equipment and go down the slide on her own without help.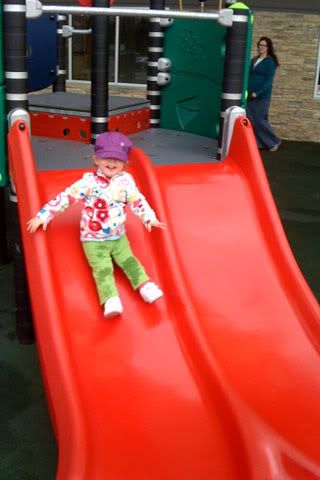 Charlotte can go down the slide without any help.
This one was actually smaller than one she went on last week.

Charlotte discovered a fun new toy!
There's a funny story behind this one. When we first got to the park, we tried to sit her on it, but she just wanted to get off. A while later, some other kids came and she saw one of them riding this toy and enjoying it. As soon as it was free, she went straight over to it, we helped her up, and she was all smiles.
Keep close tabs on the blog over the next two weeks, as we'll be posting when we head to the hospital, and of course as soon as possible once the baby is born. We've acquired some great technology since Charlotte was born (namely, an iPhone), so we will have internet access immediately and will be able to post photos within hours.
Back to waiting, and BBQ steak with asparagus for supper!
Labels: charlotte, food, iPhone, natashas nine months