Town Centre Park
We took today to get out and have some fun family time in our old stomping grounds of Coquitlam. Charlotte got up nice and early and as it was obvious there was no more sleep to be had, we got ready and headed out earlier than expected.
Our first stop was IKEA for a tasty and inexpensive breakfast, then off to Town Centre Park for a walk and some free-roaming time for Charlotte. Charlotte doesn't always have a lot of room to play, so when she gets out into the open, there is no stopping her and she isn't pleased at all when it's time to go.

Charlotte makes a new friend.
As I followed her around the park, she and a boy started following each other around which turned into another long tour around a section of the park.
After we got Charlotte back in her wagon, we took her over to the playground area.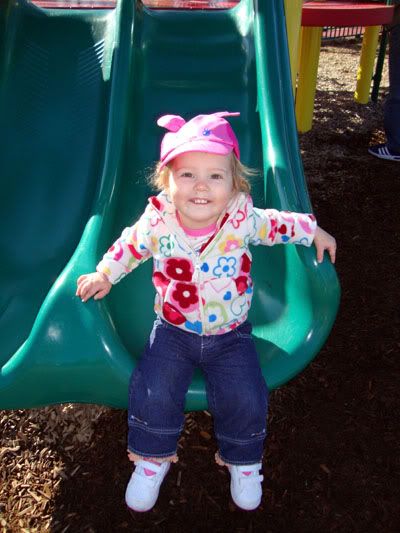 Charlotte loves to slide.
As you can tell, she's very proud of herself. She can climb up the steps and slide down all by herself now.
We let her play for some time here, then headed to the mall for lunch and some shopping. Charlotte was so worn out that she fell asleep in the stroller for an hour and a half, giving us a chance to wander around, sip our bubble teas, and watch some Olympic action on a large projection screen.
Since Charlotte had such a good time at the playground, we took her back for another hour of play, and got this video of her on the swings.

Enjoying the swings!
It's been a long and busy day, so we spent the evening relaxing. Charlotte got to bed a little earlier and we we will be soon as she'll probably be up bright and early again tomorrow morning.
Labels: andrew and natasha, charlotte, family