Babymoon #2 Day #2
Day two of our vacation was packed with adventure, and we bring you 14 photos to prove it!
After getting up and having an excellent breakfast at the hotel, we headed out to see the sights around the Space Needle and the Pike Place Market.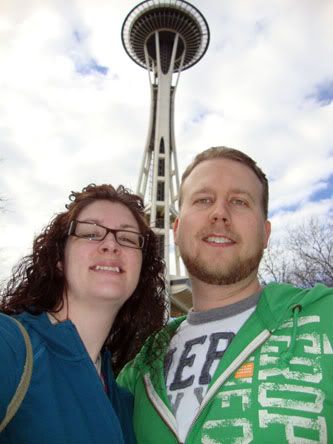 Andrew & Natasha under the Space Needle
We didn't actually go up the Space Needle, only walked around the area. We noticed an interesting building and discovered something else we'd be interested in doing!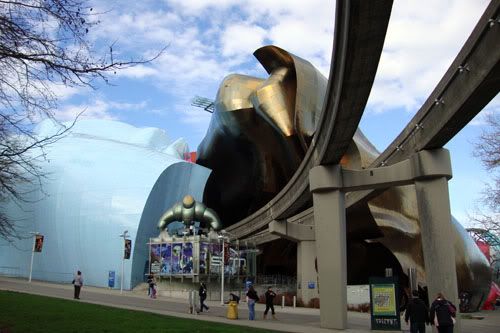 The Science Fiction Museum
Filled with memorabilia from all types of Science Fiction from books and movies going back to the early days up until the present.

A model of the original Star Trek set

A model T-Rex
This one was really neat. They used this in the filming of Jurassic Park. As the model was moved using the handles on the back, the position readings were captured by a computer and presented back on the video as a "real" dinosaur.

A huge guitar twister
Also in the same building is a music museum, largely having to do with audio and guitars and the artists that use them.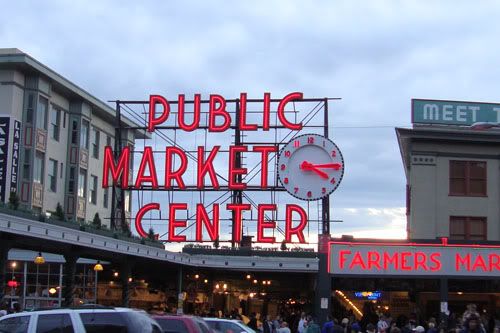 Pike Place Market
One place we like to visit every time we visit Seattle is the Public Market. We discovered a bunch of new shops we'd missed on our other trips.

Had a bite to eat at the Crumpet Shop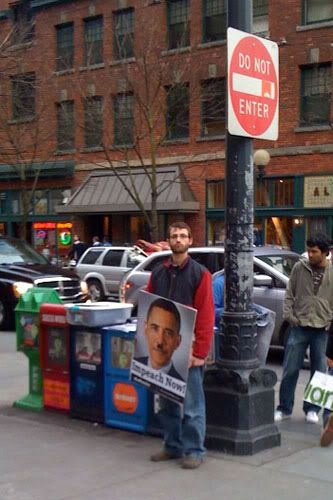 Impeach Obama Now!
Got a kick out of this; a guy on a corner holding an "Impeach Now" sign along with a photo of Obama wearing a Hitler mustache.

Azteca!
For supper we went to a Mexican place called Azteca. It's a cozy restaurant with good food, and a place we'd visit again.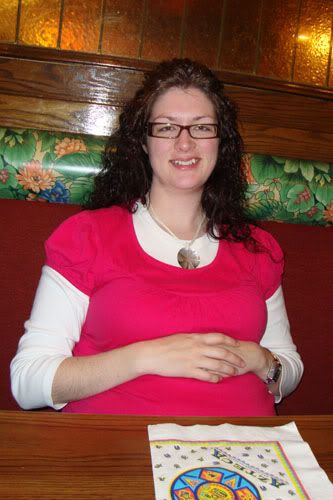 Natasha at Azteca

Andrew, loving the food!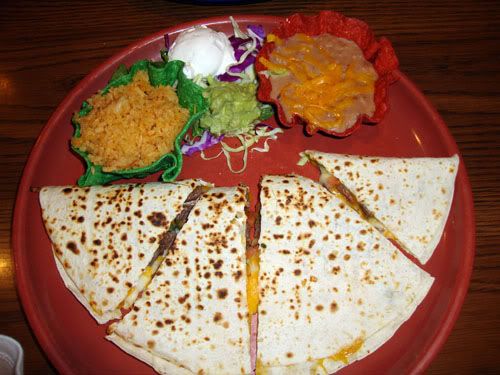 Natasha's steak fajita quesadilla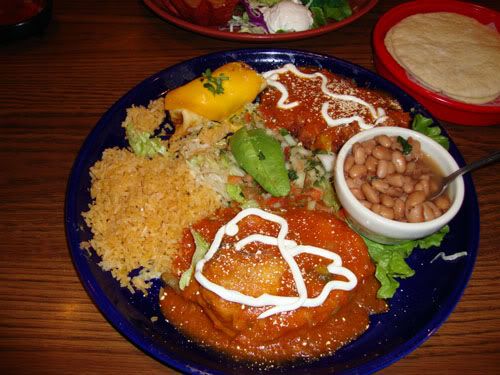 Andrew's Mexican Mash-up
I can't remember the name of what I ordered, mainly because there were too many items on the menu, and I simply picked one that sounded good and pointed it out to the waitress. It was a combination of chicken and stuffed pepper items, with flour tortillas on the side. I have to say, the tortillas were the fluffiest and best tasting I've ever eaten.
Day #2 is over, only one remaining. Had a long day, and will be resting very well tonight. We'll be back home on Sunday evening, with a Day #3 post to follow.
Labels: babymoon, food, natashas nine months, travel