Babymoon #2 Day #1
Yesterday morning, Natasha and I left for a 3-day vacation; a babymoon! What is a babymoon? It's a vacation a few months before a new baby is born, to relax and get rested up before all the fun begins. This is our second and we highly recommend it to anyone having a new baby.
Charlotte is enjoying herself too! She's staying with
Nathanael and Shelley
, and it sounds like she's having a great time. Thanks so much for taking this on, guys!
We drove down to the Seattle area with a number of stops along the way (no need to rush), including outlets where we picked up a nice collection of clothes for Charlotte. Very little spending on the two of us so far!
Once we got settled in to our hotel, we decided to visit a restaurant we have heard of many times but haven't been able to try out: Claim Jumper! As expected, we started snapping photos when the food arrived, and we bring you these pictures.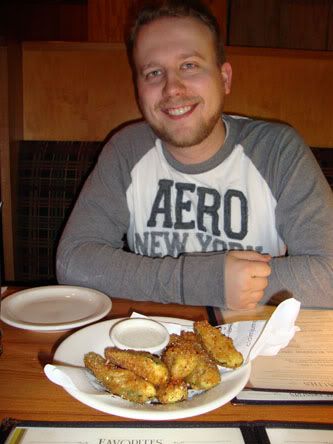 Andrew with the zucchini sticks (in the restaurant!)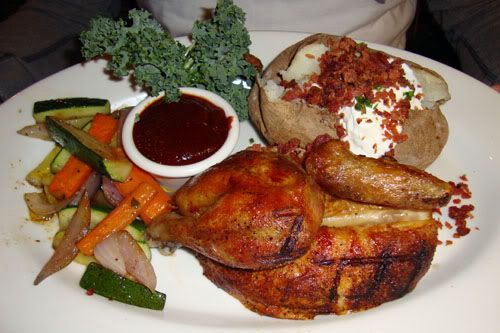 Andrew ordered the half chicken rotisserie
I decided to go with something basic for my first time and this was a tasty and hearty meal indeed. The baked potato was an excellent side dish for the chicken and was about twice the size of your average baker potato. I have to say though, Natasha's baked potatos, drizzled in olive oil, showered in sea salt, and baked to perfection, are even better.

The bread side-dish, a corn meal muffin

Natasha's meatloaf
Natasha also went for a hearty sounding meal, and this one hit the mark. Two slabs of meatloaf on a bed of mashed potatos with grilled veggies on the side, and a giant buttermilk biscuit.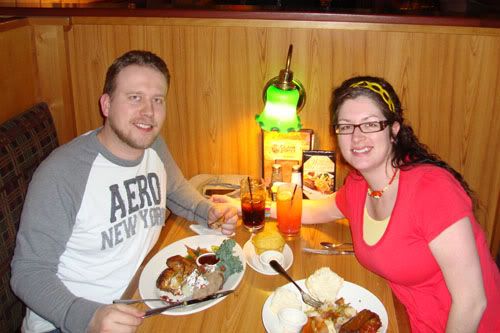 Andrew and Natasha, ready to eat!
And to go, we ordered a 6-inch berry pie with a granola crumble on top which we shared back at the hotel.
After supper, we went over to the mall where we wandered around, picked up a case for Natasha's iPod Touch at the Apple Store, and a book for Charlotte at Borders.
We're having a great time so far and look forward to the next two days! Now it's time for Day #2, which we will report on later!
Labels: babymoon, food, holidays, natashas nine months