Christmas Holidays, 2009
Our Christmas vacation this year took us to Edmonton where all of my immediate family and their children were gathering. Eight adults and six kids in one house turned out to be quite the thing, but we all survived and had a good time.

The Christmas haul, or part of it.
Breaking from our 29-year (or more) tradition of opening gifts on Christmas Eve, we moved it to Christmas Day due to some logistical issues. The pile of gifts you see was truly impressive, and is at least in part credited for the economic recovery of late 2009.
As usual, we did a gift exchange amongst the adults, as well as gifts between couples, and for Dad and Mom.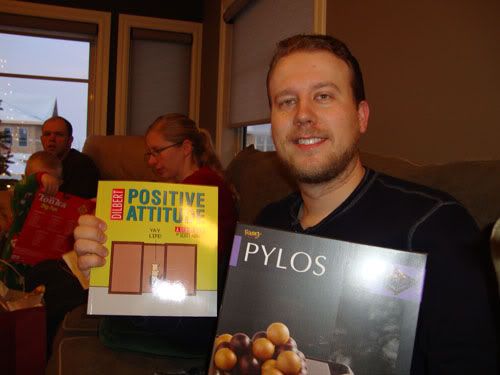 My exchange gift, from Dad. A Dilbert book, and Pylos.
If I look a bit tired and not ready for the day, it is because we got pulled out of bed bright and early. The kids couldn't wait any longer; Another good reason to open gifts the night before.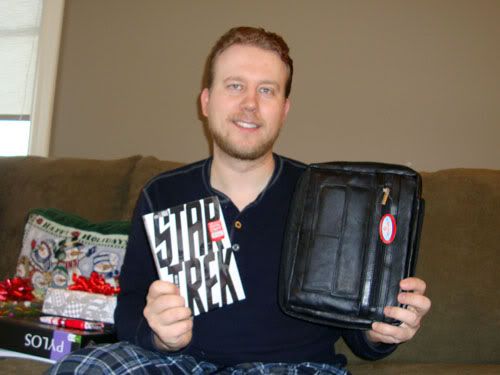 Gifts I got from Natasha
Natasha got me a new case for my Bible as my old one has had a broken handle since before we got married. She also got me a copy of Star Trek, which is a special edition that comes with a digital file.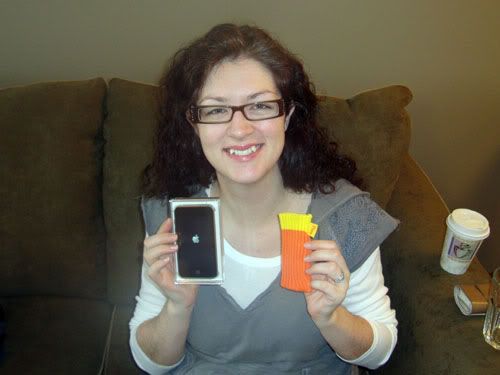 Natasha with her new iPod Touch!
The surprise gift of the entire day! I totally blew the agreed upon budget for this one, but I got it on "sale" from the Apple Store online, complete with free engraving. It was a gift I couldn't resist giving, and I hope it will be as useful to her as the iPhone has been to me.

Natasha with her exchange gifts.
Natasha got a wide variety of items including the Love Comes Softly series, a Christmas CD, knee socks, and a number of bath and body products.
Speaking of knee socks, including ones she bought, Natasha came away from the holidays with 19 new pairs!

Dad and Mom with their gifts from us.
For Dad, we bought the DVD series Band of Brothers. For Mom, a nice salt and pepper grinder set, and a photo frame. From Charlotte, Mom got a couple of really nice oven mittens from IKEA.
We took the opportunity to visit the Apple Store in West Edmonton Mall. It's a very large store and despite the mall being only relatively busy, it was packed.

The Apple store at West Edmonton Mall.
While there, I picked up a special something, my first MacBook accessory:

Me with a brand new Magic Mouse!
Back at the house, things are busy as ever. Kids all over the place, and four families trying to keep up their schedules despite everything going on.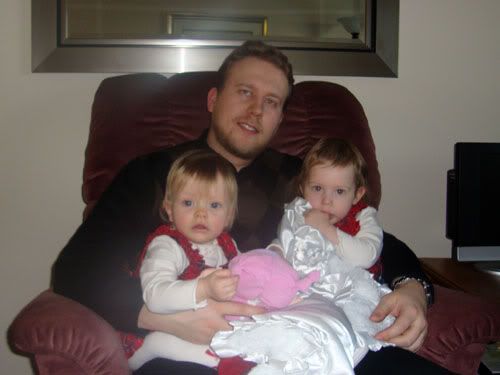 Andrew holding Brianna and Charlotte.
This trip had a big impact on Charlotte. She learned (or rather, became aware) that she isn't the only kid in the world and that there is competition for Daddy and Mommy's time. Never before seen behaviour, such as pushing other kids away when they touched me, cropped up a couple of times. With the new baby only 3 months away, it will be interesting to see how they interact.

Charlotte playing it up!
Of course there was much fun to be had by all, and here is one of Charlotte wearing a pair of too-large glasses belonging to one of the other kids.

Charlotte with Oma.
On our last day in Edmonton, we went to Boston Pizza with Oma. This is actually Charlotte's great-grandma. We tried to get together with the relatives as much as we could, but due to our group size, and a few people getting sick, we had to limit it.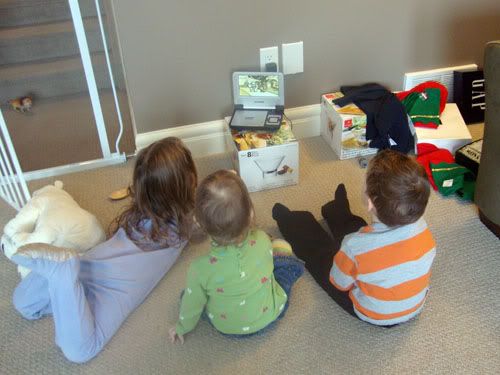 Kids watching the portable DVD player.
A gift from work, this portable DVD player came in handy a few times. With so much going on, the kids needed some downtime, and here they are enjoying some quiet time.
Also on this trip, we celebrated the birthdays of Natasha and my sisters, all of which happened in December.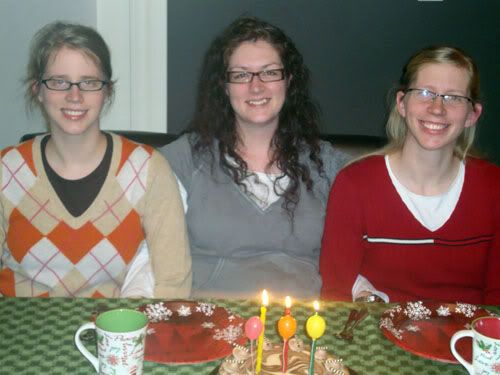 Happy Birthday, girls!
Susanna, Natasha, and Stephanie.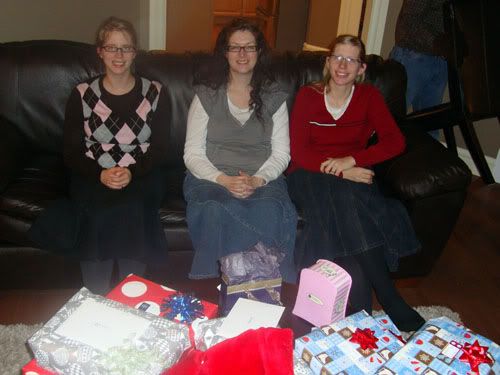 The three girls with their birthday gifts.
And lastly, we have Charlotte demonstrating how we all felt after a week of vacation.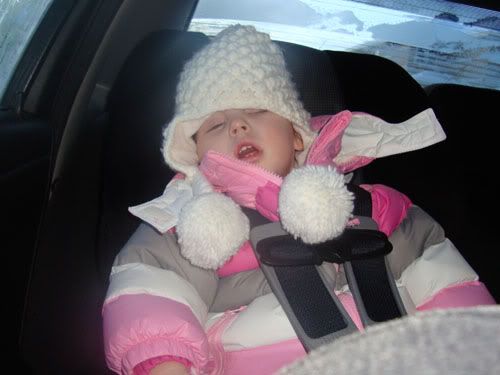 Saturday and Sunday are rest days, devoted to catching up on things around the house, sleeping in, and getting ready for work on Monday morning.
Welcome to 2010!
Labels: andrew and natasha, apple, charlotte, christmas, family, friends, holidays