Helmut Hoyer: Funeral Photos
The funeral for my grandfather was yesterday, and we have a few photos to share and comments to make. First, thanks to all who attended the service, burial, and lunch. To those who participated in the funeral in any way, we appreciate your time and efforts to make everything perfect.

The family members entering the church.
Based on the guestbook, there were at least 85 people who attended the funeral.

The pallbearers, all six grandsons.
From left to right: John, Isaac, Andrew, Matthew, Mark, Peter. (By the way,
What is a pall?
)

Natasha singing, along with Wendi and Mike.
This song ("
If We Never Meet Again
") was practiced for the first time that morning, and performed in the afternoon. It sounded excellent, and fit the service completely.

My Dad giving the eulogy.
The eulogy was a well put together and excellent summary of my grandfather's life. Following the eulogy, Brother Ed Hammermeister delivered a touching service as well as the mention of some very nice memories.

Family and close friends at the burial.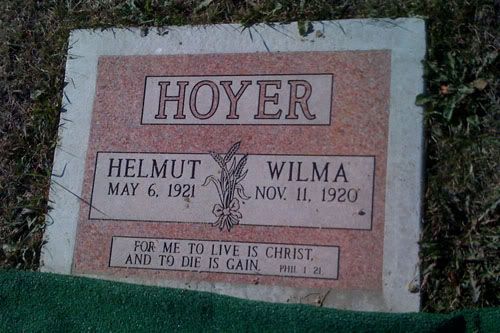 The grave marker.
This stone was laid some time ago when the plot was booked. As you can see, the birth dates of my grandparents are already engraved. September 27, 2009 will be engraved below Helmut shortly.
Labels: family