Starby Car!
I am happy to present Starby Car, my latest gaming project. It's a simple yet challenging game in which you must dodge oncoming vehicles and collect ice teas, with big bonuses for catching them in quick succession.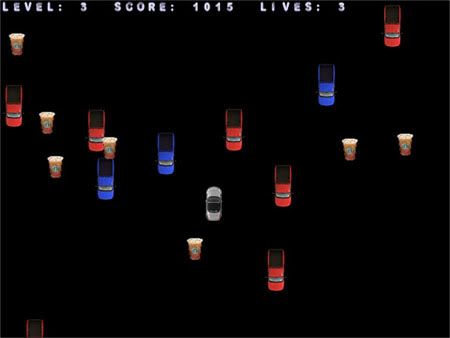 Starby Car!
To download this game, visit the
game page
on my website. It is a Windows program, but hopefully you Mac users (myself being one) can run it on an emulator as well.
A few special testers have really enjoyed the game so far, so download it now and give it a try!
Play and win!
Here's your chance to win big and have fun at the same time. I'm giving away a $5 Starbucks gift card to someone who qualifies by doing
any
of the following. Each will give you one entry into the draw.
1) Add a comment on this post (hopefully with a mention of your high score).
2) Post this exact line on Twitter:
@trooperscoop Play Starby Car and win! http://bit.ly/1qIbw3
3) Write a post on your own blog about Starby Car and link here. (You'll need to pair this with adding a comment to this post with your blog address so I know where to look.)
On Friday, September 25th, we'll draw a name and announce the winner. You'll be contacted to get your address so we can mail you your prize. Please indicate who you are, maybe some kind of email or website address so we can actually contact you.
Enjoy!

Labels: games