Alaskan Cruise: Food Report
This is the post everyone has been waiting for! Now, we knew that you'd want to know everything we ate in detail, so we kept a running list on just about every meal and snack we ate on the cruise, all listed below with photos for you to read and enjoy!
Sunday
Lunch: Seven Seas
The Seven Seas is one of two main dining rooms on the ship. It is typically more formal, especially in the evenings.
Appetizers - Split pea soup with scallions, and Tapas Salsa
Meals - Chicken Alfredo with feta cheese, Grilled American Club Sandwich
Dessert - Bluberry peach cobbler, Fruit plate with cottage cheese
Second Lunch: Sail-Away Party on the pool deck
The minute we left shore, a big BBQ party started on the top deck of the ship. Two massive circular BBQs were set up, cooking up all sorts of delicious meats and vegetables.

The Sail-Away BBQ! Yes, food brings smiles to our faces.
The food list - Pork ribs, grilled chicken, pork chop, corn on the cob, veggie rice, pretzel buns, and cabbage salad.
Snack 1: Garden Cafe
The snacking begins! The Garden Cafe is the main buffet where you can also stop by for some dessert, or a treat from the icecream shop.
Snacks - Brownie, cheese sampler, jello, and icecream.
Snack 2 - Las Ramblas
The first day was all about exploring the ship, and we made our way to this cozy Tapas Bar. They have a variety of appetizers which you can pick and choose from... a great place for a little evening snack too.
Treats we enjoyed - Olives, mushrooms, potato skins, spicy sausage skewers, deep fried squid with garlic mayo, bread medallions with ham and tomato, and spinach turnovers. Keep in mind we're talking about one or two bites of each item.
Supper: Ginzo Sushi
Ginzo is one of the specialty restaurants on the ship. A few of these exist and charge a flat rate per person, in this case $15. We thought we would start off with something light and refreshing, but as we'd been eating all day, we were half stuffed already and didn't even finish our food.
Miso soup, salmon and tuna sashimi, ebi sushi, shrimp tempura roll, godzilla roll (shrimp, mango, avocado, caramelized cashews, coconut), and a dynamite roll were all included in what you see above.
Monday
Breakfast: Garden Cafe
Scrambled eggs, pecan bread, sausages, pineapple and mixed fruit, country potatoes, a grey hard boiled egg, apple and orange juice, Peppermint and Earl Grey tea.
Lunch: Pacific Heights
This restaurant is free, and serves up pizza and pasta, which they make to order right in front of you.
Andrew ordered Penne Alfredo with mushrooms, sun-dried tomatoes, and broccoli while Natasha got Rigatoni and bolognese sauce with sun-dried tomato, mushrooms, and onion. Don't forget the one piece of veggie pizza too.
Supper: Seven Seas (formal night)
We got dressed up for this meal, along with many other people in the dining room.
To start - Bread & butter, baby shrimp cocktail, and an asparagus, bean, and scallop salad.

Natasha had the Lobster with rice, grilled veggies, and fish.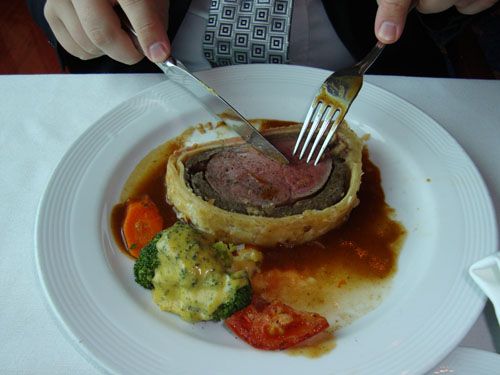 Andrew tried Beef Wellington with veggies.

Creme brûlée for dessert, Natasha's favorite

Plain but tasty strawberry sherbet for Andrew
Snack #1: Sports Bar
The Sports Bar is open nearly every hour of the day and night and is a great place to pick up a quick snack or something to nibble on late in the evening.
On this visit - Nachos with cheese and guacamole, and a plate of fish and chips.
For a snack later that evening - Spinach and artichoke dip (which was really bad), and 10 mild buffalo wings.
Tuesday
Breakfast: Room Service
On those days that we were docked, we ordered breakfast to our room so we could eat and get off the ship as quickly as possible since we slept in. Ordering is made easy. Just fill out a card and hang it on your door before you go to bed. The food will arrive at your specified time.
On the menu - Small Danishes, fruit plates, cold cereal, and juice.
Lunch: Great Outdoor Cafe
This cafe is a large seating area on the top deck right at the back of the ship. Along with it is a smaller buffet which is in service on slightly different hours than the main buffet to make sure you have some place to get food at all times.
The fare - Mushroom burger, hot dog, Caesar salad, and potato salad.
Supper: Il Adagio
Our second visit to specialty restaurants was Il Adagio, serving Italian food.
Appetizers - Deep-fried Calamari, and Caesar salad.

Lobster ravioli

Shrimp Risotto

Ricotta cheesecake with strawberries

Chocolate torte with spiced apricots
This torte was by far Andrew's favorite dessert of the trip.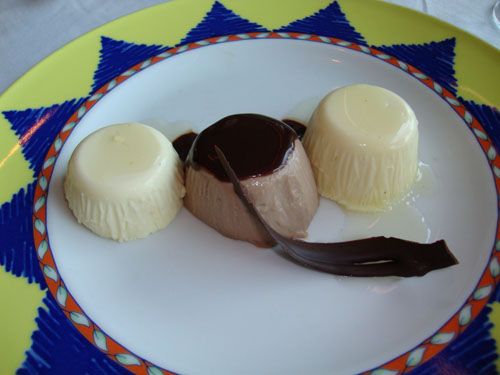 Vanilla and chocolate custard.
What? Three desserts? You bet! We couldn't decide, so our waiter suggested that we just get all three. The custard was a bit eggy...
Wednesday
Breakfast: Room Service
More of the same - Danishes and muffins, fruit plates, orange and grapefruit juice.
Lunch
This lunch was a special one, which we combined a total of
four
restaurants to complete.
1. Sail-away BBQ - This appeared to be a lunchtime tradition anytime the ship leaves a port. Pork ribs, BBQ chicken, grilled salmon.
2. Great Outdoor Cafe - Alaskan halibut, potato salad, French fries. After getting food from the first two places, we found a seat indoors as it was chilly outside.
3. Las Ramblas - Natasha was cold so I went upstairs to get some vegetable consume.
4. Garden Cafe - For dessert, of course - Pecan pie and jello.
Supper: Great Outdoor Cafe
You're probably getting the picture by now. The food is unlimited, but the places to eat aren't. Still, the food is tasty, and casual, so here we are.
Chowed down on - A hamburger, hot dog, halibut in cream sauce, and French fries.
Snacks: Las Ramblas
Picked up - Mushrooms, olives, spinach turnovers, potato skins, and calamari. On the way back, picked up 10 hot wings, and tomato soup with croutons from the Sports bar.
Thursday
Breakfast: Great Outdoor Cafe
Eggs, bacon, sausage, muffins, pastry, fruit, bread w/ deli meat and cheese, apple juice, and milk.
Lunch: Great Outdoor Cafe
(seriously)
Hamburger, hot dog, fries, cheese and strawberry on a pretzel bun, tuna croissant, brownies, and a scone.
Supper: Seven Seas
Appetizers - Scallops, and citrus fruit with apple cider vinaigrette.
Meals - Turkey dinner with brussel sprouts, stuffing, sweet potato, and cranberry sauce. Baked flounder with asparagus.
Dessert - Four Seasons
(chocoholic buffet)
Our first visit to this dining room. What did we eat here? Just a couple of too-sweet items.
Friday
Breakfast: Pick-up from one of the buffets
Natasha was ready early and went out to get some Wheaties, Special K, pastries, muffins, and apple and orange juice.
Lunch: Great Outdoor Cafe
Mushroom cheeseburgers, salad, and fries.
Supper: Four Seasons
Our first meal at this dining room.
Appetizers - Chilled Strawberry soup, and marinated seafood salsa.
To eat - Rack of lamb with lentils and potatoes. "Surf and more Surf" (lobster, scallop, shrimp, red snapper over Linguine, and asparagus).
Dessert - Flourless chocolate molten raspberry cake.
Evening Snack: Garden Cafe
Chicken strips, pretzel bread, beef sauté, and baked pasta with cheese.
Saturday
Breakfast: Great Outdoor Cafe
Eggs, bacon, potatoes, muffins, pastries, and pineapple.
Lunch: Great Outdoor Cafe
Mini-steaks, potato salad, Caesar salad
Dessert - Pudding with maraschino cherry from the Garden Cafe
Supper: Four Seasons
By the end of the cruise, I started to think we should have come here more often...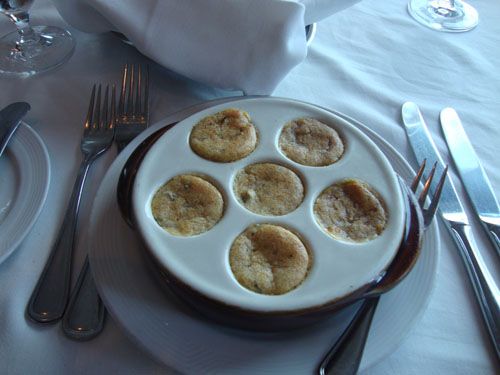 Appetizer - Escargot!

... also, Salmon tartar.

Pecan crusted Snapper with Balsamic rice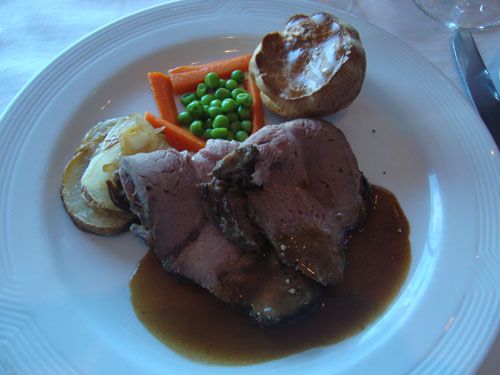 English Strip-loin with Yorkshire pudding

Warm Coconut soufflé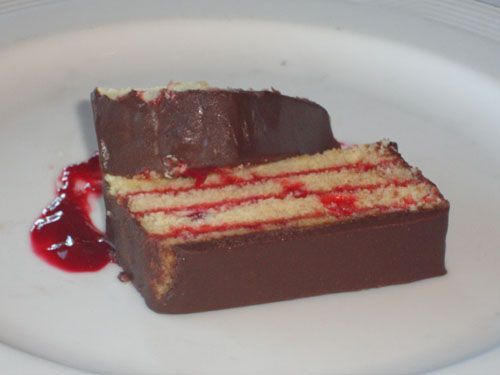 Chocolate and raspberry torte
Snacks: Garden Cafe
Baked pasta, meatballs, spring rolls, jello, cheesecake, chocolate covered strawberries.
Sunday
Breakfast: Four Seasons
Leaving the ship in style, we dropped into the dining room for our good-bye breakfast.
Both of us had biscuits and gravy, sausage, bacon, and coffee.
Q & A
Q: What about all the shrimp?
A: It turned out that on this cruise, the shrimp were not falling from the sky. In total, we had about 8 or 9 shrimp.
Q: How did you eat all this and gain only a couple of pounds?
A: That is a great question, one which will be revealed in Chapter 8 of our book on cruise dining, "Take the stairs, chunkers!".
We hope you've enjoyed this food post. Watch for our fourth and final blog post on our cruise coming sometime within the next week.
Labels: alaskan cruise, food, travel