Leavenworth Trip: Day Two And Three
Our weekend trip to Leavenworth, WA is over, and it's back to the regular grind starting tomorrow. Here we bring you a report on day two and three, along with some video. Unfortunately, we couldn't take photos of everything we did, so you'll just have to go there yourself and find out how nice of a place it is.

The sign as you enter Leavenworth from the west.

Scenery from town.
The town is nestled in the mountains so the scenery is beautiful. We had amazing weather all three days, and I suspect that is the usual for the area.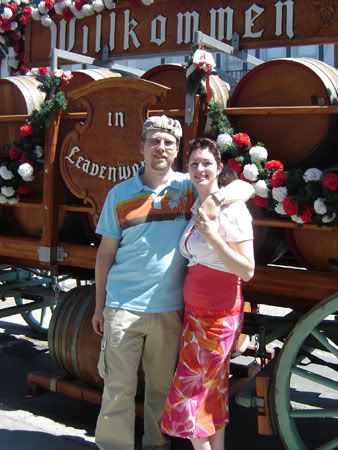 Welcome to Leavenworth!

Charlotte snacking on a lemon.
This is actually from day one, when we ate lunch at a place that serves a variety of sausages and a vast array of toppings (around 10 types of mustard for starters). Once Charlotte got ahold of the lemon, she wouldn't let go. A little sour to offset all that sweetness!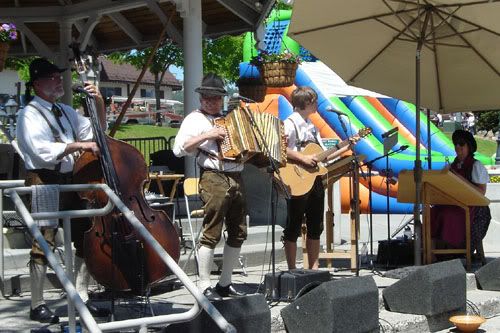 Swiss Singers / Yodelers
Walking through town, we came across this group who were extremely entertaining. See the following video, and if you understand German, it's a bonus!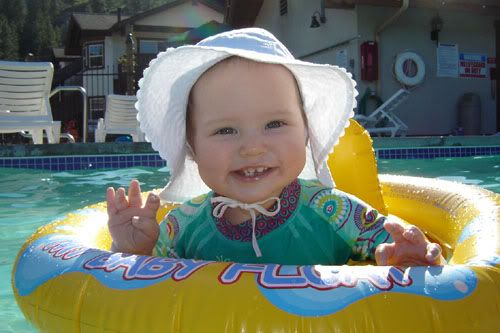 Charlotte's first trip to the swimming pool!
That's right, on Charlotte's birthday, she also got to go swimming in a pool, and she had an amazingly fun time. We had this floating tube for kids which made it a lot of fun for everyone.

Splish, splash!
After swimming, we took the kids and went out for Italian food. The place we went to was called Visconti's, and the food was great. We started off with a pound of clams in a tasty butter sauce, and a side (probably a pound as well) of asparagus, grilled to perfection and perfectly seasoned. We topped it off by splitting an order of their Spaghettini and meatballs.
This morning, we got up, packed up our stuff, and went for breakfast. We headed out shortly after that, but not before stopping by Starbucks for two Venti Shaken Black Iced Tea Lemonades.
And later that afternoon on the way back to Canada, we stopped by McDonalds for a quick bite.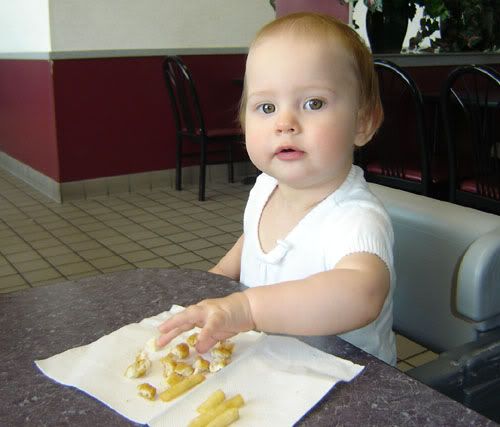 Charlotte eating McNuggets and fries
Thanks to our friends, Martin and Dianna for the great weekend and for organizing the trip. I think everyone had a good time and would be happy to go back again sometime.