Carcassonne: The Big Box
On Saturday night, we had some friends over for a game of Carcassonne. We own the basic game and many of the expansions, but have never played with them all together. This game was a six player game, using the basic Carcassonne game, plus the following expansions: Inns & Cathederals, Traders & Builders, The Princess & The Dragon, and The Tower.
The game took about three hours, but at least 30 - 60 minutes was taken up with setup, rule examination (to see how all of the expansions worked), and a few delays in between. Overall, playing with all the expansions was less of a problem than we expected it to be. Sure, there was a lot more going on, but as each person takes their turn, there are still a limited number of things they can do, so the game is still fairly simple.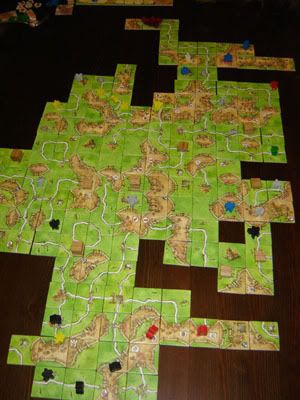 The board at the end of the game
The one thing that really changed is the aggressiveness of play, and how the board is constantly changing with meeples being captured by towers, and the roaming dragon gobbling them up as well. As you can see from the photo above, the board is largely devoid of meeples, especially near the center where you would normally expect farmers.

Everyone's favorite, the meeple-eating Dragon
I think this game renewed our interest in Carcassonne after quite a while without playing it. I'm hoping to play another "Big Box" game with the addition of a second Dragon and expansion tiles to make things even more exciting.
Labels: carcassonne, games