Big City, Small Town Mentality
Having lived in the Lower Mainland of BC for almost 10 years, I have consistently seen an overall feeling of living in a big city but with small town mentality. For a place with 2.5 million people and growing fast, this is a serious concern but one that shows almost no signs of changing.
Oh, we're a big city alright. We're hosting the 2010 Olympics! But look a little closer and things look a lot different. Malls in the surrounding cities close at 6pm before Wednesdays. 24 hour stores are nearly unheard of. Buses come every 30 minutes or even 60 minutes. The list goes on.
Worst of all, the road and transit system are far behind where they should be, and even upgrades being done now are barely meeting the current need. Busy two-lane roads are being upgraded - to four lanes. Why not prepare for future growth and go to six? Build a new bridge to accommodate increasing traffic from outlying areas to the city? There is so much opposition that it hinders even the slow moving government process to get such a project underway.
And it is bridges that have become a serious problem as of this morning. Part of the
Pattullo Bridge
caught fire and has done enough damage to have it shut down for up to a month, as read in
this CBC article
.
The Pattullo Bridge, which crosses the Fraser River to connect New Westminster and Surrey, B.C., could be closed for as long as a month after a fire damaged the bridge's support structure Sunday.

A spokesman for TransLink, the organization responsible for public transportation, roads and bridges in the Lower Mainland, said the fire damaged a 20-metre section of wooden trestles at the south end of the bridge early Sunday morning.
Wood? Don't be surprised. This bridge was completed in 1937, over 70 years ago! It's narrow, dangerous, and everyone knows it needs to be replaced. The last paragraph in the article is very telling:
TransLink has plans to eventually tear down the 71-year-old bridge and replace it with a six-lane, $800-million structure, but B.C. Transportation Minister Kevin Falcon said Sunday a new bridge is still many years away.
Too little, too late!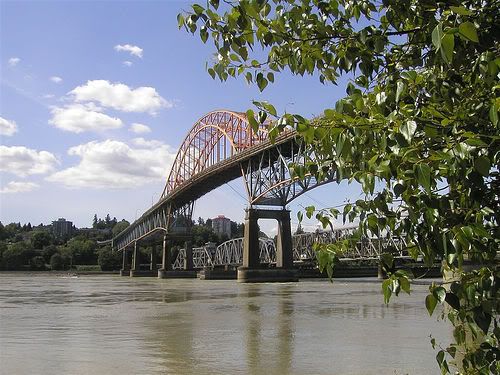 The Pattullo Bridge
This is the bridge I drive across every morning on the way to work. Waiting in backed up traffic to cross its two lanes going north, dodging potholes, and staying clear of the big trucks who are forced to use up both lanes are some of the adventures that await me each day.
Now I can look forward to finding a new route to work, whether that be via another bridge, or by taking transit. Surely both options are bad, as the Pattullo Bridge is crossed by 80,000 commuters every day and that volume will have to be directed elsewhere.
It's going to be a mess out there.
Update: Monday Morning
I woke up extra early, 5am, left the house at 5:30am and got to work by 6:30am. Considering how early I left and it taking an hour, traffic was a lot heavier than usual. I plan to work earlier hours for the next few weeks and see how it goes. Based on today's trip, it's still much better than taking transit.
Labels: british columbia, car, environment, news, olympics, vancouver, work