How My Career Revisited Its Roots
I turned 29 this year, meaning I have been out of school and into my career for ten years now. I'm pretty happy with what I've accomplished so far, especially in the last two years. It is these last two years that have had some special meaning to me considering where I started.
Many people make decisions about their careers in high school, or in some cases, not until years later after much uncertainty and numerous changes in education paths. That's not necessarily a bad thing of course, and I think people should take as much time as they need to make sure they get it right.
In my case, however, events that happened much earlier in my life directed my path to where it is today. It was sometime around grade six, making me eleven or twelve years old, when I was introduced to computers for the first time; this one in particular: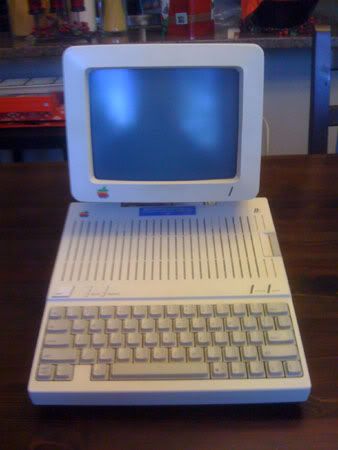 My Apple IIc
This computer didn't always belong to me. My aunt and uncle bought it for my cousin when it was the latest and greatest machine, and I only inherited it years later when it was old technology but still a useful programming tool and a source of a lot of fun. I have kept this computer with me ever since, taking it out on rare occasions to re-live some of the memories and play a few old games. The machine itself is in perfect shape, complete with all peripherals, manuals, etc, and compares very well to the one in the
Royal BC Museum
. Only recently, and much to my disappointment, has it stopped working.
I remember when my Dad told me it was possible to enter instructions into a computer to tell it what to do. I was amazed and intrigued, and this was probably what sparked my interest in the whole thing to begin with. Later, my parents bought an
Amiga 500
which I also did a lot of programming on and which I also still have.
My early software development continued right through to high school, winning me the "Computer Student of the Year" trophy in grade nine along the way. When I reached High School, I had already chosen my post-secondary school and program, and the type of career I would pursue. Many things have happened since then, some as I expected, others not at all expected, but my overall focus on computers and programming as a career has stayed constant.
Now, almost 20 years later, I find myself coming full circle, back to the source of my original interest. The company I work for deals almost exclusively with Apple computers, and I own a MacBook laptop and an
iPhone
, also made by Apple. It is very amusing to sit these pieces of equipment, old and new, beside each other, noting the identical logo but realizing that they are basically a generation apart.
To my parents, aunt, uncle, and cousin who gave me this fascinating start, thank you! Small beginnings have turned into a career which I greatly enjoy, a source of stability for my family and I, and will likely have far reaching effects for many years.
As for the Apple IIc, I will try to fix it someday if I can find the time for it. I will never get rid of it, definitely; a family relic, and an important part of my history.