Vacation: Boston, Part 2
Friday was our last day in Boston, and we met up with our friends, David and Erin, and their little guy, Luke. We met in the Boston Commons, a large park in the center of town. From there we toured around town, visiting shops, book stores, and Quincy Market, packed with many places to buy food. Outside, street performers entertain the crowds, or try to. As we ate our lunch, we witnessed a most dreadful acrobatic act which consisted of more fooling around and silly chatter than amazing feats, and to which I boo'd at the end.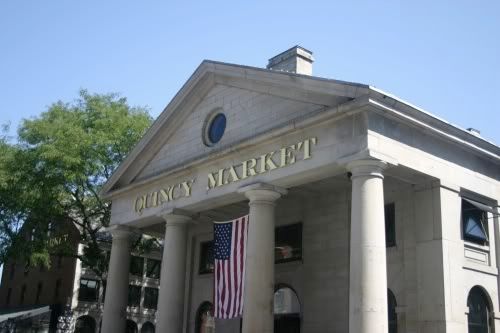 Quincy Market
After lunch we took a walk down by the harbor. It was a warm and sunny day, and we headed back towards the park after a short while, picking up a Starbucks iced tea on the way.

Andrew and Natasha (Charlotte in stroller) down by the waterfront.

Erin, Dave, and Luke
We decided to visit the
JFK Library and Museum
which is about 10 miles away from Boston. This was the first presidential library we had visited, and it turned out to be quite interesting.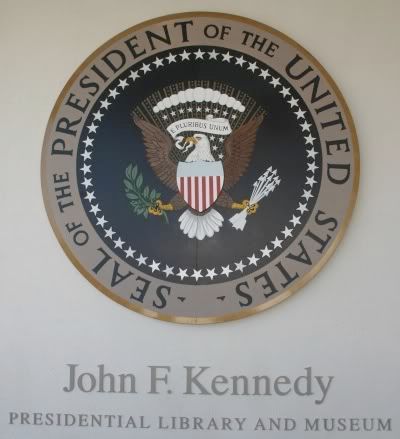 At the JKF Library and Museum
The exhibits are full of memorabilia and personal items from the Kennedy family and his time as President. There are two short documentaries to watch (we saw only one) and short video clips in each area showing speeches, or news reports relating to whatever part you were looking at.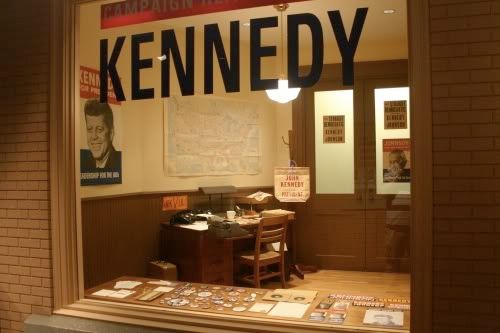 JFK Museum Exhibit
At the end of the museum, you enter a large hall with a completely glass exterior. There is a really nice view of the ocean, and of JFK's sailing boat which you can also see if you walk around the outside. It is really a large and open space with not much there, but my guess is that it is used as a venue to be rented out.

Flag hanging in the large hall at the JFK Museum
We've said our good byes to Boston and are heading out for a few days to visit friends. We'll be driving back up to New Brunswick after that for the last part of our trip, and then back to BC.
Labels: august 2008 trip, elections, usa