Charlotte's Baby Dedication
On Sunday, we had a baby dedication for Charlotte at our church. Since Natasha's Mom is in town, as well as my sisters, we figured now was a good time to do it. We also thought that as she is still quite young, she might sleep through the whole thing, and this turned out wonderfully.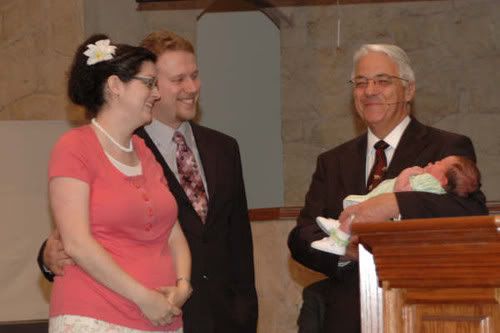 Charlotte's Baby Dedication with our pastor, Ed Byskal
The baby dedication was done by our pastor, Ed Byskal, who had some very kind words of encouragement and advice for raising children. The smiles all around in the photo follow his comment that he has lots of experience with girls (he had three).
Here we are with a sleeping Charlotte! Natasha and her Mom took Charlotte on a road trip to see Natasha's Grandma, and they will be returning home later tonight.
Labels: charlotte