Welcome, Charlotte Anne!
Natasha and I are pleased to announce the birth of our baby girl, Charlotte Anne, on Saturday, May 24, 2008 @ 6:31am, weighing 9 pounds, 12 ounces and measuring 21 inches in length!!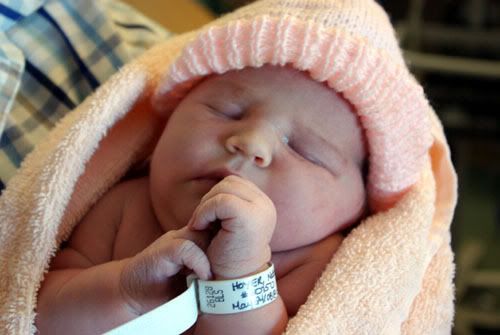 Our little Charlotte Anne
It's been a difficult couple of days, especially for Natasha, but we all did our parts, and in the end everything worked out great. We haven't had internet access since 2:30am this morning when we went to the hospital for the second time. This time around, things were progressing, but due to lack of space, we were diverted to the Langley hospital where the baby was born quickly... within about an hour of arriving (no time for an epidural!).
Mother and baby are doing well and are scheduled to come home on Monday morning.

The happy family, with new addition
Thanks to everyone for your kind words, advice, and prayers. We appreciate them all.
Labels: charlotte, natashas nine months