Natasha's Surprise Couple's Baby Shower
Last Friday, we threw a surprise couple's baby shower for Natasha over at Shelley's place. The "plan" was to go over for the evening to play some games, but what Natasha discovered quickly was that there was a whole lot more people in the house than she expected!
I was in on the secret, and you can see a great video of the "surprise" right here:

Surprise!
We then proceeded to have a great evening of food, fun, games, and talk about babies. Here are some photos taken from the party, and some descriptions of the evening's activities.

The food was great!
Unfortunately, since Natasha didn't know what was going to happen, we ate supper before coming, but we still sampled all of the food.

The "guess how big Natasha's belly is" game.
I approved of this game the moment I heard about it. Each couple gets the spool of ribbon, and gets to cut off as much as they think will fit around Natasha's belly. The true circumference is measured, and the team with the closest ribbon length wins. In the above photo, Martin and Dianna try to estimate using her slightly less pregnant belly. Maybe it helped, as they won!

Apple Juice Bottle game.
In this game, each couple is given one bottle with apple juice. The goal: between the two of you, which team can drink all of the juice first? Here you see me, not doing very well. I doubt we were anywhere near the winning at the end.
Also seen in this photo are the "Dad to be" and "Mom to be" ribbons we got to wear.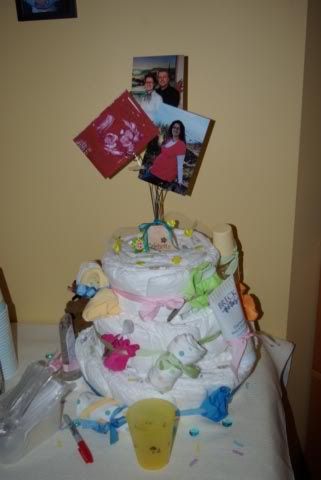 Roseanne and Shelley put together an inedible but highly useful
and very cool looking diaper cake!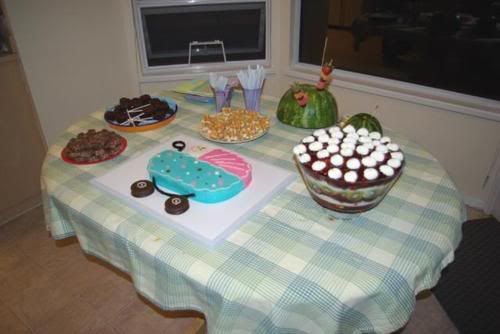 The impressive desserts! Trifle, baby cake, and more!

Andrew & Natasha with the baby cake, created by Mom,
decorated by Dad, based on a magazine recipe.

The gifts
We thank everyone who came to our party, and for all the really great gifts. We appreciate your friendship.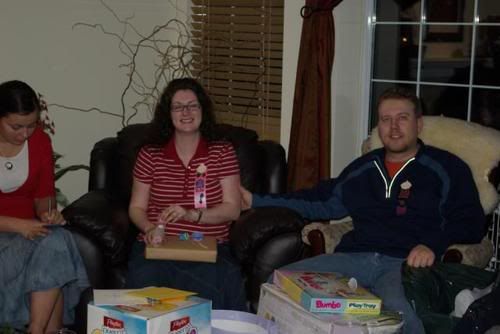 Opening the gifts
Overall, a great evening, and lots of fun was had by all.
Labels: baby stuff, friends, natashas nine months