U1600 Chess Tournament
This past Saturday, I played in a chess tournament in Port Moody. It was for adult players with ratings under 1600 and geared towards making connections with other chess players in the area.
My last tournament experience, in September, wasn't too successful, but I've learned a lot since then and am a lot more comfortable in the tournament environment. I played well, and won 3 out of 4 games. Having recorded them, I went back to find out that I could have also won my fourth game with better play, but that's how it goes.

U1600 Chess Tournament
The tournament consisted of 12 players, and I was able to take a few photos while games were going on. In the photo above, I was playing black against Ralph, the tournament organizer.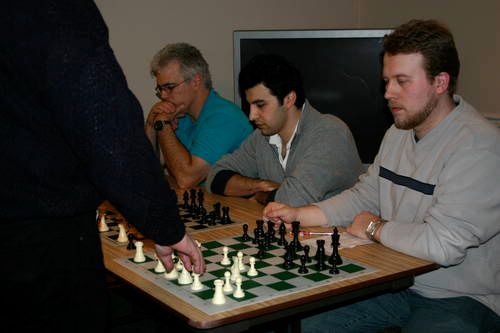 Dan Scoones vs Andrew -- Simultaneous match
After the four rounds of the tournament, Dan Scoones, rated around 2260, played a simultaneous match against all twelve tournament players at the same time. This is an interesting format, putting a master level player against a number of vastly lower rated players. I don't know what the end result was, but I made a blunder partway in and things went downhill from there.
Anyway, I am happy with my 75% win ratio and with what I learned from my loss. There are some tournaments coming up later this year which I may attend, and I would really like to go back to the Langley Open in September to see if I've improved any over the year.
Labels: chess