Whistler Ski Trip Report
Natasha and I went on a bus trip with friends of ours from church up to Whistler for a day of skiing. It was cloudy with a bit of rain, but once we got on the slopes, it wasn't that bad. Actually, later in the day it cleared up a bit and was somewhat warm.
This was the first time I'd been skiing in at least ten or more years. Natasha is a pro and has been wanting to take me since we've been married. Neither of us have been skiing on a mountain, so this was an all new experience.
Natasha also got to show off her ski skirt, which I thought was pretty cool. Never seen anything quite like it (see photos below). She actually got a number of other skiers compliment her on it, and a few simply gawked.
We explored both mountains, Whistler and Blackcomb, and because it was only for a day, we barely touched the expanse of the area. The ski hills are so large that without knowing where you're going, you could get lost, but as long as you keep going, you'll eventually end up down at the bottom.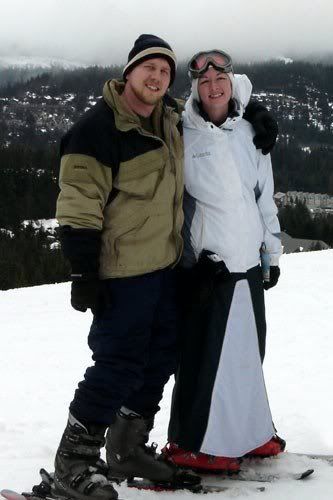 Us on the slopes!
Overall, we had a lot of fun, and got a workout at the same time. We're a little sore now, and it'll likely be worse tomorrow. The ski season is coming to and end soon, but maybe we'll try out Whistler and some other mountains next year.
Note: This post was edited on April 14, 2011 to replace missing images and remove references to other images that were previously lost.
Labels: activities, friends, video